This is a recipe that has been passed down in my husband's family since the early 1800s when his French Huguenot ancestors arrived at the Cape in South Africa. I'm sure it has been cooked over fires in numerous potjies (three legged cast iron pots) throughout the years. My mother-in-law cooks it on the stove top but every attempt I have made on the stove has ended with burnt soup so I've adapted it to the slow cooker and have had great results. It also allows me to throw it together in the morning and leave it for most of the day instead of standing over a hot stove stirring for three or four hours. Crock pot split pea soup is a family favorite but in our house it is simply called Granny's soup.
Prep time: 20 minutes, Cook time: 8 hours, Serves: 15
Ingredients:
1 kg (2 lbs) of dried split peas

2 large onions
3 large potatoes (peeled and cut into large chunks)
3 large carrots (peeled and cut into large rounds)
8 pieces of beef shin
salt and pepper to taste
Directions:
Put split peas and shin in a large crock pot and cover with boiling water (I use a 6.5 liter slow cooker but a 6 quart should also work fine – adjust the amounts for anything smaller).
Leave split peas and shin cooking on the low setting while you prepare the vegetables.
Add onion, carrot and potatoes to slow cooker. Fill with boiling water but leave about an inch of free space at the top of the crock pot.
Leave to cook for most of the day.
After about five hours, skim off the froth that has formed on top of the soup and remove the meat. Trim off any excess fat and cut meat off the bone into the whatever size pieces you desire.
Using a plastic potato masher, mash the vegetables in the crock pot (you might want to turn it off while you do this).
Return the meat to the crock pot, stir it into the split pea mixture and continue to cook on the low setting until meat and peas are soft and you are ready to eat.
Add salt and pepper to taste just before serving.
This soup is very thick and hearty and one batch will feed about fifteen people. I make a large batch and then freeze it in smaller portions. It's an easy meal to make fresh but even easier to take a container of it out of the freezer and heat it with enough water to get your desired consistency. It pairs well with a salad but, if I'm going to be honest, I will have to admit that we usually eat it with fried bread.
Variations:
I take the meat out and cut it up before it gets so soft that it falls off the bone because I like to trim off the fat and I prefer smaller pieces of meat in my soup. My mother-in-law does the reverse. She cooks the soup until the meat falls off the bones, then takes the vegetables out, mashes them, returns them to the pot and fishes out the bones. The marrow can then be spread on bread.
I always make this when we bake a ham. I leave out the shin and use the juices I collect from cooking the ham instead of the water. After mashing the vegetables I add some of the cooked ham (cut into cubes) and cook until it is heated through.
You could also substitute a ham hock for the shin, my husband's grandmother used to use shin but added bacon bones to give the soup more of a ham flavor.
Split pea soup makes great baby food. When my children were infants I used to scoop some of the soup out after mashing the vegetables (before adding the meat back in). I would freeze it in ice cube trays so that I could just take a cube or two out at a time for a quick and easy baby meal.
Split pea soup is also great for children who are just starting to feed themselves. I used to give my children the soup without adding any additional water to thin it out. It is so thick, especially when cooled enough for a small child, that it will stay on the spoon and they will actually get something in their mouths.
This post is part of the Simple Family Dinner Blog Hop. Click on the button below to find a pinterest board full of healthy (and easy) dinner ideas.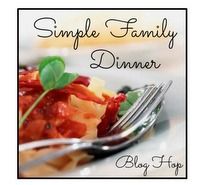 Or visit the participants below:
Enchanted Homeschooling Mom
|
Inspired by Family
|
Sun Scholars
|
This Reading Mama
|
Life by Ashley Pichea
|
In Culture Parent
|
Raising Life Long Learners
|
Glittering Muffins
|
Octavia and Vicky
|
Kid World Citizen
|
Kitchen Counter Chronicles
|
Nomad Parents
|
Childhood 101
|
Triple T Mum
|
Adventures in Mommydom
| The Freckled Homeschooler | Teach Beside Me |
The Chirping Moms
|
Discovering the World Through My Son's Eyes
|
So You Call Yourself a Homeschooler
|
Pickle Bums
|
The European Mama
|
The Golden Gleam
|
Forever, For Always, No Matter What
|
Motherhood on a Dime
|
Harrington Harmonies
|
Rainy Day Mum
|
Jenni Fischer
|
Cakes and Sribbles
|
Toddling Into Madness
|
Mermaids' Makings
|
Mud Hut Mama
|
Here Come the Girls
|
All Done Monkey
|
Small Potatoes
|
Little Artists